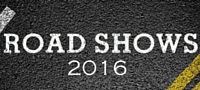 Thank you for your overwhelming response to our latest survey of cities to visit in 2016.
We have reviewed all of your feedback and will soon publish our 2016 WatchBuys Road Show schedule with cities and dates.
---


Fortis Swiss Watches to be Featured at Road Shows
WatchBuys is proud to have just been selected as the new exclusive North American distributor for Fortis watches in Grenchen, Switzerland.
We will bring a large selection of Fortis watches to all WatchBuys Road Shows this year, including the new Fortis 2016 BaselWorld releases.
---
We will also feature the new
2016 BaselWorld releases
from Sinn, Nomos Glashutte and Junghans along with some unannounced surprises.
If you've never been to a WatchBuys Road Show, prepare to spend time at the event relaxing and viewing a very large number of watches - no one is under any time pressure to leave by a certain time.
---
What is a Road Show?
A WatchBuys Road Show is a chance to learn more about Sinn, Nomos Glashutte, Fortis, Hanhart, Junghans, Jaeger & Benzinger, Dornblueth & Sohn, Thomas Ninchritz, Stefan Kudoke, Jochen Benzinger and the other watch brands that we represent.
We bring many of the watches shown on the WatchBuys site so that you may see them in person, take photographs, ask detailed questions and compare them to other watches at the event.
Please note that we do not offer watches for sale or take orders at these shows. The idea is to have fun in a no pressure setting to view and discuss watches in smaller groups (we set multiple appointments throughout each day and limit the number of guests so that everyone has access to the watches).
There is never a charge to attend a WatchBuys Road Show but advance registration is required.
---
How Do I Receive an Invitation to a Road Show?
Please ensure that you sign up to receive invitations
by clicking here to subscribe to our free newsletter
. Subscribers to our newsletter are the first to be notified of our next locations, dates and times and will receive invitations to all WatchBuys Road Show events.
It is also important to note that our Road Shows always fill to capacity, and we must close registration once the events are full. For this reason, please remember to register early once we announce that registration is open for a new city to ensure the widest choice of available dates and times.