Until now, the company has largely been known as a manufacturer of watch components for other (primarily German) watch companies, but now is concentrating on their in-house Dekla brand.
Welcome to Dekla German Watches.

Dekla has an interesting background, and quality (or lack thereof) really put things in motion.
The company founders have been involved in watch manufacturing for many years, but when they first started to create and design their watches they purchased cases from a case manufacturer.
Things did not go well - when those cases arrived, the quality did not meet expectations and the company rejected all pieces. And from that point forward their mission changed.
First, Dekla switched to in-house case production to meet their quality standards. Next, dial and hand production moved in-house, and so continued a long path towards "German products made by us".
---
Watch Cases and Parts
We applaud both the attitude and initiative to take over in-house production, and over the years Dekla has continued to expand their manufacturing expertise.
Today Dekla operates a comprehensive machine tool fleet, including three milling machines used for:
Rough shaping
Manufacture of watch cases
Production of small watch parts
Dekla also operates a wire EDM (electro-erosion discharge machine), which is critical to the production of small watch parts. Lathes and engraving machines complete the production process.
Finally, the company has developed hardened watch cases called 6Steel which use the Kolsterising® process to harden their 316L stainless steel to 1,300 Vickers, more than six times the hardness of a standard watch case.
These hardened 6Steel cases offer superior resistance to scratches, abrasions and nicks.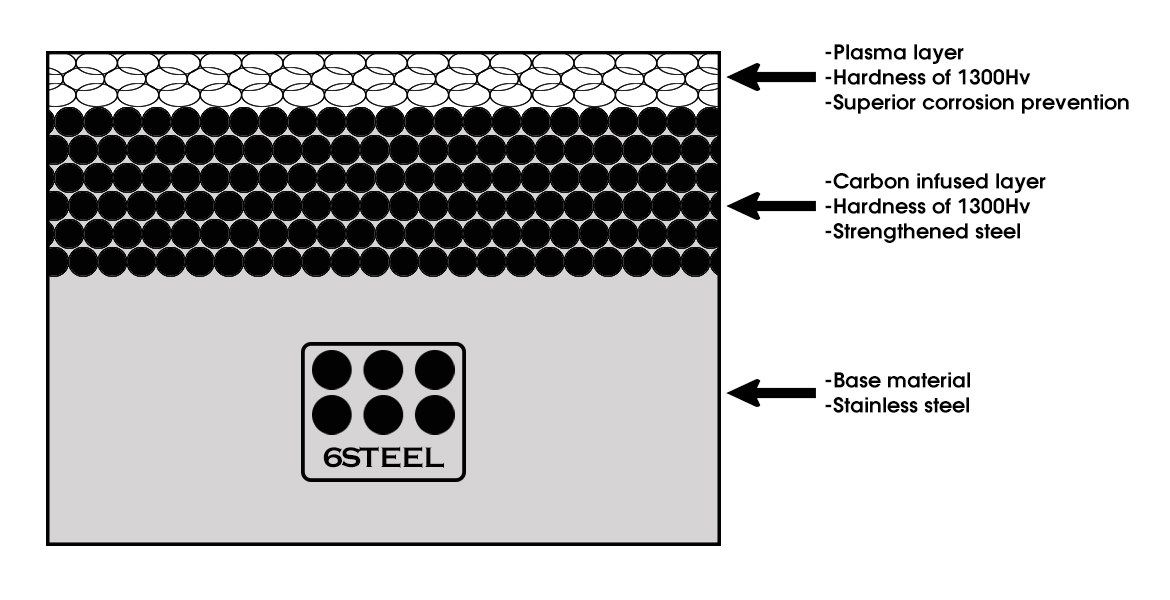 ---
Watch Dials
Watch dial manufacturing in Germany can be considered a real art, as the process requires a meticulous attention to detail. For this reason, few German watch companies manufacture their own dials but instead purchase those dials from others.

To make a great watch dial, you must first master the art of pad printing. The principle of pad printing was invented in Switzerland and involves the application of an image using an elastic pad or roller, and this technology is used by all leading German watch manufacturers.
Dekla manufactures watch dials using pad printing with precision equipment designed for use in the watch industry. Because this production is not outsourced, all watch dials meet the rigid requirements set by Dekla.


---

Watch Hands
Watch hands are another component of mechanical watches that are typically outsourced to other companies.
And unfortunately, many times the path of least expense is chosen - purchasing "stained" watch hands which are cheap to manufacture, do not hold up well over time, and are produced in mass quantities overseas.
Dekla has chosen a different approach that is consistent with their other in-house production methods - don't outsource the hands.
The company operates the necessary machinery to produce the punching dies to produce custom watch hands. The manufacture of watch hands in Germany is a special process that involves a creative approach and the use of the highest quality raw materials.

Renowned German watch hand manufacturers, including Dekla, use the technology of thermal bluing during production. In addition to the thermal bluing of watch hands, Dekla can produce watch hands from precious metals.

---
WatchBuys is proud to have been chosen by Dekla German Watches as their exclusive distributor for North America.
We are pleased to introduce a German brand that believes in producing much of the watch themselves, "everything from a single source".
And because Dekla maintains their own production, they are able to offer exceptional (and fair) pricing on their watches while maintaining a level of quality that is not often found with other brands which outsource the majority of their manufacturing.
---