<! Go to www.addthis.com/dashboard to customize your tools > <! Go to www.addthis.com/dashboard to customize your tools >

Thomas Ninchritz is on a mission - to build watches the traditional way, with plenty of "hands on" workmanship.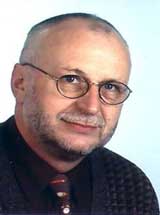 And he's also a man of all trades. As a Master Watchmaker, he holds Germany's highest certification in his craft. But his skills go far beyond those of a typical watchmaker, and include expertise with engraving, decoration, restoration and one more talent that we'll discuss later.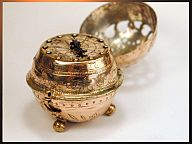 Thomas was born in Magdeburg, the capital city of Bundesland in east Germany. After German reunification in 1990, Thomas moved to Nuremberg where he makes his home today.
Nuremberg, which is located in west Germany not far from Munich, has a very interesting history related to watchmaking. Nuremberg is in fact home to the world's first watch - a pocket watch to be exact. Peter Henlein in 1505 created a watch known as the Bisampfel Watch, an elaborately cased mechanical complication.
Thomas Ninchritz has watchmaking in his genes. His grandfather was a Master Watchmaker in East Germany, and although Thomas began his working career in an unrelated field, the genes had their way and it was soon movements and parts. Thomas in fact met his wife (who is also a Master Watchmaker) while learning his trade.
Like many watchmakers, Thomas' first creations were actually mechanical clocks. To visit his workshops is a real treat for clock collectors - hanging on a wall next to his workbench is an elaborate regulator in which every piece was made by Thomas. He has also restored very old clocks in several German cities, a talent which requires a lot of patience and often the manufacture of many parts. The old town hall in Feucht, Germany can thank Thomas for the excellent timekeeping of their clock tower.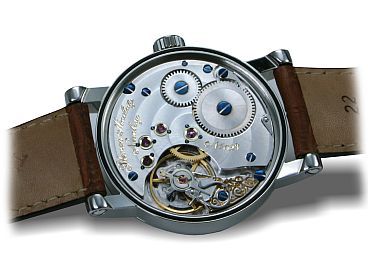 Luckily for us his interests switched to mechanical watches. Although initially he worked with watches from other brands, for example restoration of Lange & Sohne watches (both movements and cases), his true calling was to create a line of watches in his own vision and under his own name. Welcome to Thomas Ninchritz watches.
We spent two days with Thomas in his workshops, and we walked away very impressed (and a bit tipsy since Thomas believes in breaking out a bottle of champagne at the end of the day). Thomas is a hands on person, and loves the small details. His watches reflect these details - 3/4 plates, screwed gold chatons, hand engraved balance cocks, swan neck fine adjustment and beautiful Geneva circular stripes on his plates. His method of applying the Geneva stripes is quite unique as they are not stripes at all, but rather concentric circles.
His dials are among the best we've seen, and small touches from the hands that he uses on the Kathedral to the screws used in the Vice Versa show that he builds watches with a clear vision.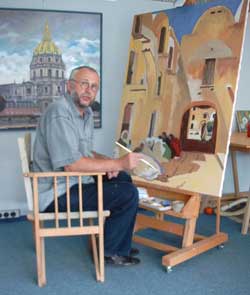 And now to that last talent that we mentioned earlier. Thomas is also an accomplished painter, and after climbing down three flights of stairs to his cellar we were amazed to see his collection of water colors and ink drawings.
WatchBuys is proud to have been selected by Thomas Ninchritz as his official and authorized representative in North America. We are addicted to his watches.
---
To see our collection of Thomas Ninchritz watches, please
click here
.